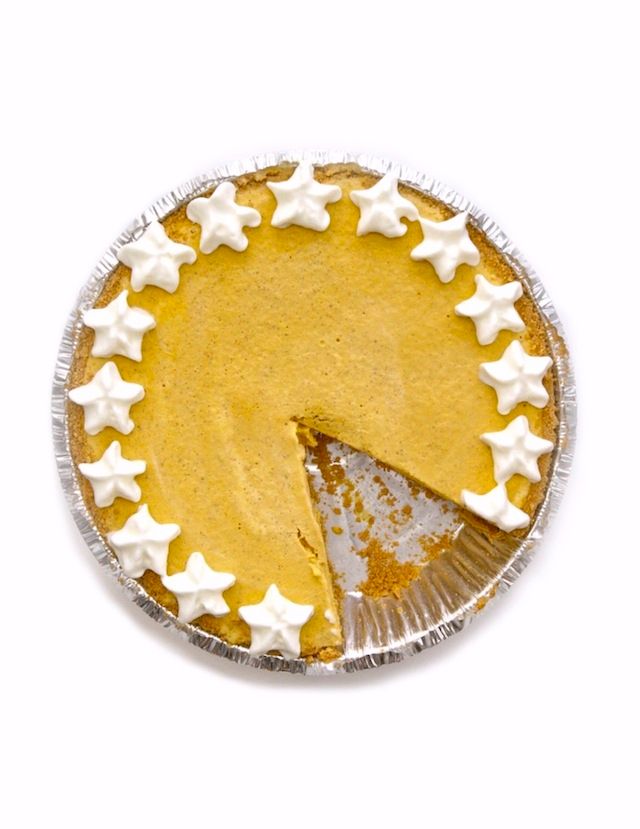 I
decided to play around with a frozen pumpkin pie recipe for Thanksgiving! There's never any room in the oven, anyway. Why not embrace that and try something new? This 5-ingredient recipe is embarrassingly easy: Just stir pumpkin puree and pumpkin pie spice into melted vanilla ice cream, then pour into a ready-made graham cracker crust and freeze...
You can make this up to 5 days before Turkey Day, just wrap tightly in plastic wrap once the filling sets to avoid freezer burn. Here's how you make it...
5-INGREDIENT FROZEN PUMPKIN PIE
1/2 teaspoon pumpkin pie spice
1 store-bought graham cracker crust
Whipped cream, for decorating and/or serving
1. Soften the vanilla ice cream in the microwave, about 30 seconds.
2. Beat the ice cream, pumpkin and pumpkin pie spice until smooth. Pour into the graham cracker crust and freeze at least 3 hours or until firm (wrap with plastic wrap and freeze for up to 5 days, if desired).
3. Garnish and/or serve pie with whipped cream. Slice with a knife dipped in warm water.