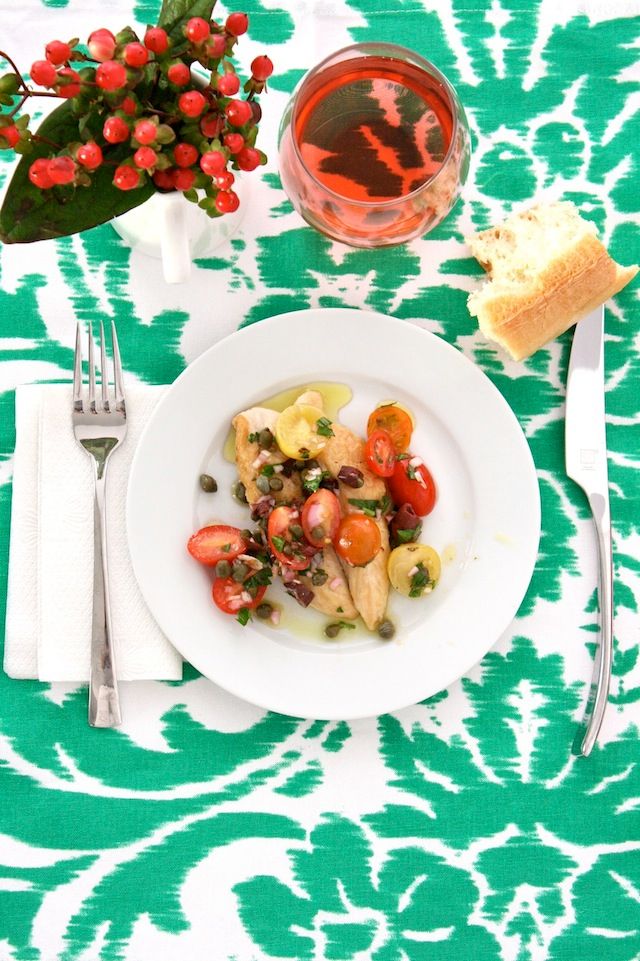 When I was growing up, my favorite thing to eat was mom's Lemon-Butter Chicken. She's famous for it!
Now that I'm on my own (and coming up with new recipes is, like, my actual job) I've expanded my poultry horizons. That's why I decided to share my recipe for
Chicken Cutlets with Tomato-Caper Dressing
with
Refinery29
.
It's a super-simple dinner idea when you're inspiration tank is running on empty.
The straightforward dressing is really savory, which I love. It's loaded with grape tomatoes, capers, olives, shallot, garlic, red wine vinegar and olive oil. Make it when you have a spare minute, then keep the dressing in the fridge for up to 1 week. It's an instant sauce that's great over chicken, pork, steak, fish, or eggs. Here's how you make it...
CHICKEN WITH TOMATO-CAPER DRESSING
SERVES: 4

1 small shallot, minced
1 small clove garlic, pressed or grated
2 cups halved grape tomatoes
1/2 cup chopped kalamata olives
4 tablespoons extra-virgin olive oil
2 tablespoons capers, drained
2 tablespoons chopped fresh parsley
2 tablespoons red-wine vinegar
Kosher salt and freshly ground pepper
1/3 cup all-purpose flour
1 pound chicken tenders or thin-cut chicken cutlets
Crusty bread, for serving

1. Mix the shallot, garlic, tomatoes, olives, three tablespoons olive oil, capers, parsley, red-wine vinegar, and 1/4 teaspoon each salt and pepper in a bowl; set aside. (Store in an airtight container for up to one week, if desired.)

2. Sprinkle the chicken with 1/4 teaspoon salt. Put the flour in a shallow dish and dredge the chicken, turning, until lightly coated on all sides, shaking off any excess.

3. Heat the remaining tablespoon of olive oil in a skillet over medium-high heat. Cook the chicken until golden and cooked through, about three minutes per side. Serve topped with the tomato-caper dressing (with crusty bread on the side for soaking up the juice)!