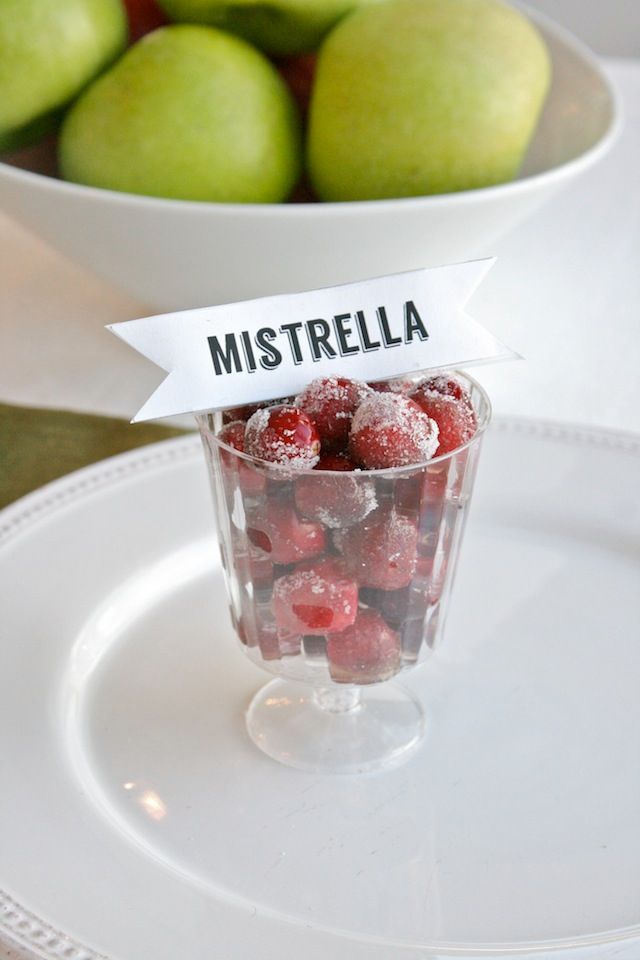 Good morning, lovely friends! T-minus 1 week until Thanksgiving. Are you getting excited!? I certainly am. What are you plans? Are you hosting or just eating? Fill me in!
Today on the Good Housekeeping blog I posted 7 Easy Food Place Card Ideas to help dress up your table, whether for a big holiday gather (like Thanksgiving) or just a dinner party with friends. I'd love to share my 3 favorites with you, if you're interested!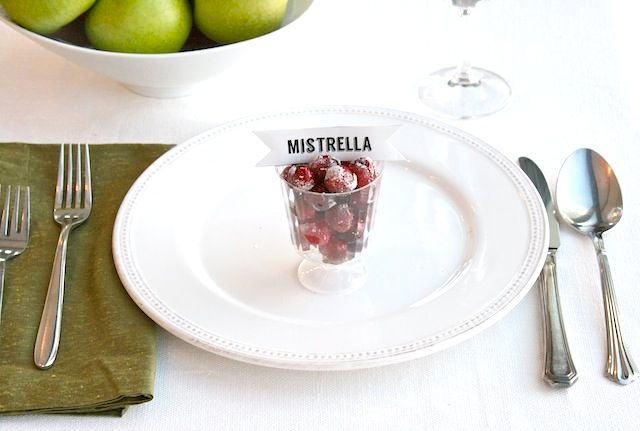 Sugared Cranberries: Pile sparkly sweet-tart candied cranberries (recipe, below) in plastic pedestal cups like these from Party City. Print names on card stock, cut into tags and snuggle into the cranberries—I used one of my favorite fonts, Canter, to print out Aunt Mistrella's gorgeous name!
Cheese and Crackers: Since boyfriend is such a cheese-nut, I tucked his name tag into a little goat cheese "button" (or Crottin) from Coach Farms. Whole Foods usually sells 'em but you can purchase these teeny goat cheese rounds online, too. Depending on the firmness of the cheese, you may need to cut a 1/4-inch-deep slit to insert the name tag. Place on parchment paper squares and add crackers to complete the look! I used the font Aracne Ultra Condensed Light for boyfriend's name.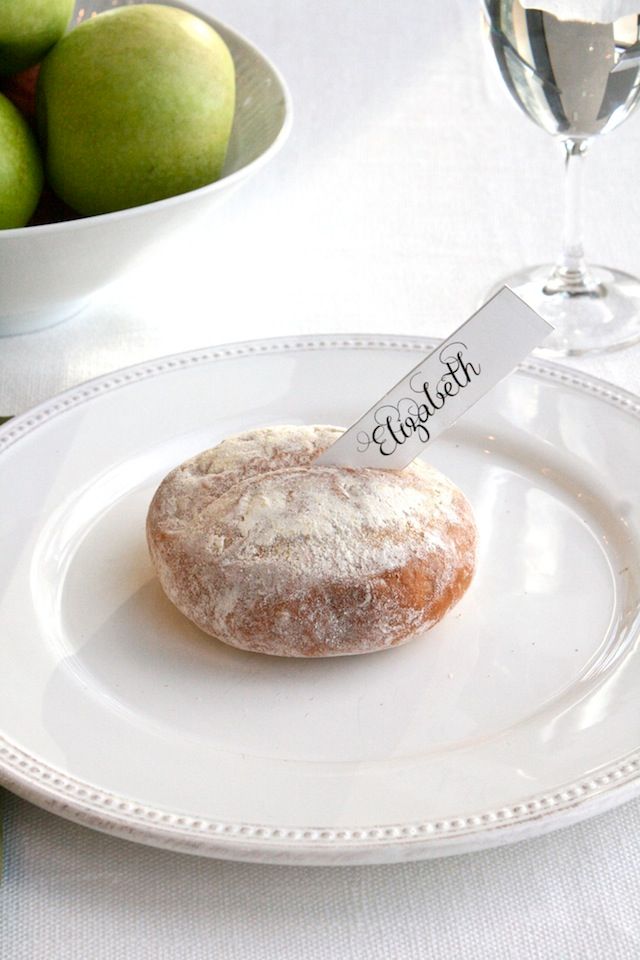 Bread and Butter: You'd likely have bread on the table anyway, so why not turn it into a place setting? Make a small incision in the top of a roll (I love the flour-dusted look of the Portuguese roll above!), then print out name tags and insert into the bread. I used Janda Celebration Script to print out our Thanksgiving hostess's name. Serve softened butter family-style or spread butter in modern candy molds, refrigerate and unmold onto each plate for a more polished look.
Question: Do you have assigned seats at your Thanksgiving dinner or do you let guests chose their own seats? xo
1 1/2 cups granulated sugar
2 cups fresh or frozen cranberries, thawed
1. Bring the water and 1/2 sugar to a boil in a saucepan over high heat, stirring, until sugar dissolves. Stir in the cranberries; remove from the heat and let cranberries cool completely in the syrup.
2. Put the remaining 1 cup sugar in a large bowl. Drain the cranberries and toss in the sugar to coat. Transfer to a wire rack and let dry 1 hour.