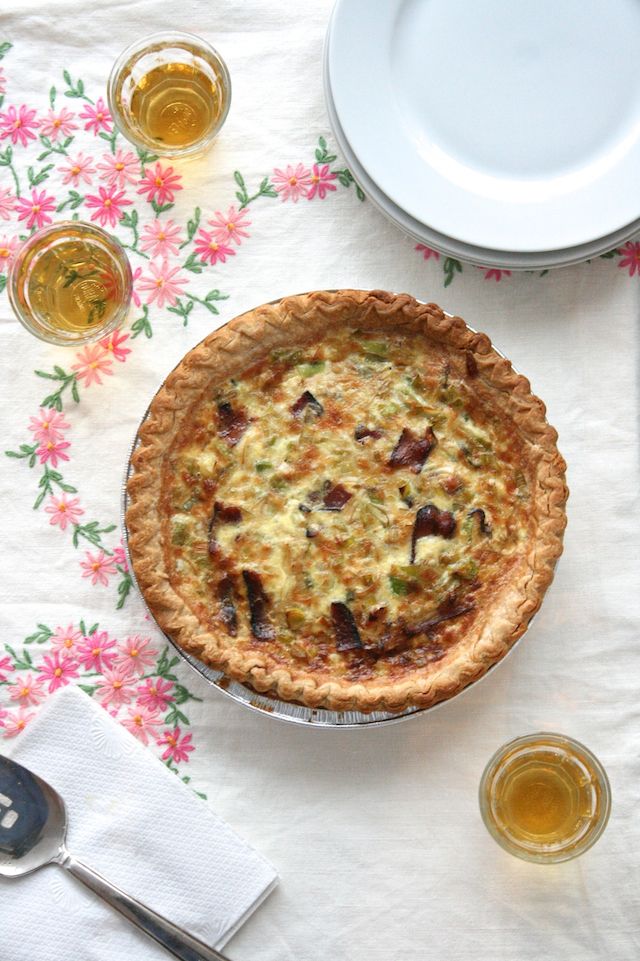 Growing up I thought quiche was a health food. Why not! It (for the most part) is a meat-less alternative to a steak dinner, right? Obviously I now realize that piecrust and gooey cheese will only pad my wiggly bits but I really don't care: I love quiche!
This recipe—one of 3 Easy Quiches I developed for Refinery29—is a great Monday-Friday meal during the holidays. Make it when you have a few minutes, then freeze slices in resealable plastic bags for up to 1 month (just reheat in the oven before serving).
My advice: Buy a good hunk of Gruy
è
re cheese for this quiche! It's so tasty with the other Frenchy ingredients. And don't feel bad about using a frozen pie shell...this is a weeknight dinner! xo
CHEESY BACON-LEEK QUICHE
SERVES: 8

1 frozen pie shell or 1 roll refrigerator pie dough
4 strips bacon
4 small leeks, white and light-green parts only, thinly sliced
Kosher salt
4 large eggs
1 1/4 cups whole milk
1 1/2 cups shredded Gruyère or Swiss cheese
Freshly ground pepper

1. Bake the pie shell as the label directs. Transfer to a wire rack, and let cool slightly.

2. Meanwhile, cook the bacon in a skillet on medium-high heat until crisp, about five minutes, flipping once. Transfer bacon to a paper-towel-lined plate and let cool; reserve drippings in skillet. Cut or crumble bacon into pieces.

3. Add leeks and one-fourth teaspoon salt to the skillet and cook, stirring and scraping up any brown bits in the pan, until leeks are soft, about five minutes. Remove from the heat; let cool slightly.

4. Whisk the eggs and milk in a large bowl until smooth. Stir in the Gruyère cheese, leek mixture, bacon, and one-fourth teaspoon each salt and pepper.

5. Pour filling into the prepared crust; transfer to a foil-lined baking sheet. Bake at 375 degrees Fahrenheit until the filling sets, about 35 minutes. Transfer to a wire rack, and cool slightly before serving.