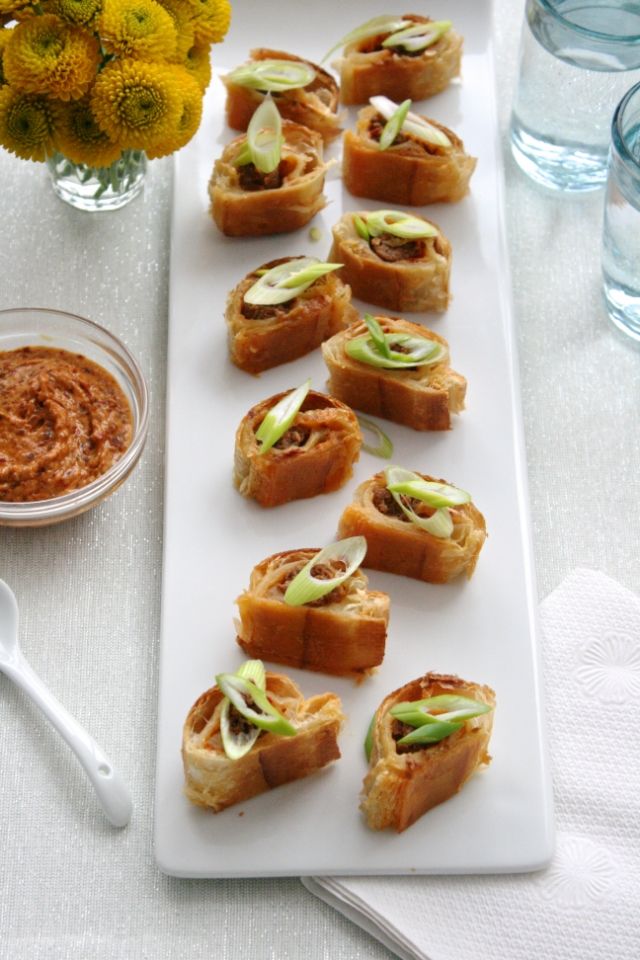 While I will always be a classicist when it comes to pigs-in-a-blanket, giving the standard snack a few ingredient upgrades makes it feel less, well, piggish...especially when you consume the volume that I do on Super Bowl Sunday...
That's not to say my twist is any healthier (it's not) but this
5-Ingredient Lambs-In-A-Blanket
recipe is a unique improvement on a box of frozen
Hebrew Nationals
, which I prefer to homemade piggies. If you're going for it, really go for it right!?
Read more about my easy, party-ready recipe on Freutcake or snag the recipe, below. The combination of merguez (lamb) sausage, Harissa & Dijon mustard is a nod to my favorite flea-market sandwich in Paris, le Mergeuz Frites! Anyway, more on Freutcake. Let know what you think! xo
5-INGREDIENT LAMBS-IN-A-BLANKET
5-INGREDIENT LAMBS-IN-A-BLANKET
SERVES: 8
1 1/2 pounds mergeuz lamb sausage
2 (17.3-ounce) packages frozen puff pastry, thawed
1. Preheat the oven to 400˚F. Line a baking sheet with parchment paper or a silicone mat.
2. Cut the merguez sausage into 9-inch lengths. Cook the merguez in a large skillet over medium heat, turning, until browned on all sides, about 10 minutes.
3. Meanwhile, stir together the mustard and harissa in a small bowl; set aside.
4. One at a time, unfold the puff pastry on a cutting board and cut the square (about 9-inches) in half to make two rectangles. Spread some mustard mixture on the puff pastry. Put 1 sausage on each puff pastry rectangle and tightly roll up; transfer to the prepared baking sheet, seam-side down.
5. Beat the egg yolk and 1 tablespoon water in a small bowl. Brush the egg wash all over the puff pastry logs. Bake until puffed and golden, 13 to 15 minutes. Let cool slightly on the baking sheet, then transfer to a cutting board and carefully slice into pieces. Serve on a platter with more mustard mixture (and/or sliced scallions), if desired.