You may have spotted the teaser video for this 5-Ingredient Sticky Toffee Monkey Bread over the weekend. Well, huzzah! The big reveal is here: Head over to Leah Bergman's blog, Freutcake, for the full tale of my new favorite breakfast treat—the ooeiest, gooiest thing you can imagine!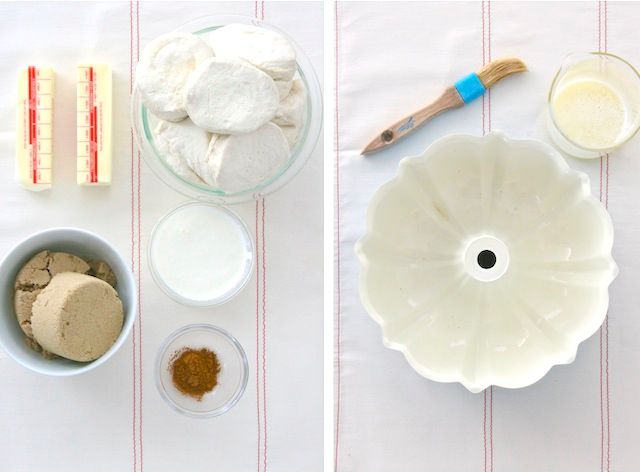 Refrigerator biscuit dough is one of my favorite shortcut grocery ingredients. It doesn't have that yeasty DIY flavor that homemade dough has, but it's close and lets you get this Monkey Bread on the table in under 45 minutes—worth it! I like to use Pillsbury's Grands! Homestyle Original Biscuits. Don't use flaky, they don't work as well!
You'll find a few extra-special mix-in ideas over on Freutcake (hint: one's totally boozy!) if you want to make this monkey bread even more special. I think it's kind of perfect for Christmas morning breakfast don't you? You could even make it the night ahead: Just skip turning it out (step 5) and wrap/refrigerate the bread in the pan. To serve, just reheat in a 350˚F oven—maybe about 15 minutes—then turn out and serve with the extra sauce.
5-INGREDIENT STICKY TOFFEE MONKEY BREAD
2 sticks butter, plus more for the pan
2 1/2 cups packed light-brown sugar
1 teaspoon ground cinnamon
2 (16-ounce) cans refrigerator biscuit dough (original or buttermilk)
1/2 cup heavy cream
1. Preheat the oven to 350˚F. Butter a 10- to 12-cup Bundt pan; set aside.
2. Put 1/2 cup brown sugar and the cinnamon in a resealable plastic bag; shake and knead the sugar mixture in the bag until combined.
3. Separate the biscuit dough into individual biscuits. Tear each into 2 to 3 pieces and roll into balls. A few at a time, put dough balls in the bag with the cinnamon sugar and shake until coated; brush off any excess sugar and arrange in the prepared pan. Repeat with remaining dough balls.
4. Bring the heavy cream, 2 sticks butter and remaining 2 cups brown sugar to a simmer in a saucepan over medium heat, stirring and/or whisking occasionally, until melted and combined.
5. Pour half of the toffee sauce over the dough balls in the Bundt pan; save the remaining toffee sauce for serving. Bake the monkey bread until fluffy and golden, about 30 minutes. Remove from oven and invert onto a serving plate (if using a cake stand, set a plate underneath to catch any initial drips). Serve with remaining toffee sauce for drizzling and dipping (heated in the microwave, if needed).