So I've never actually ordered a Pumpkin Spice Latte from Starbucks—eeks! I know, I'm just not a Starbucks drinker—but I do understand the frenzy that surrounds the #PSL each fall. Pumpkins are delicious! And why not add their wonderful goodness to a warm, milky latte to make the day a little better?
Last year I created a Pumpkin Spice Latte Cheesecake recipe as a nod to the annual outburst. This year I decided to approach the #PSL through a penny-wise lens for Good Housekeeping and developed this copycat recipe that saves you the most money possible: You can make 10 of my homemade lattes for the cost of 1 tall Starbucks drink! The key is a homemade pumpkin spice syrup, which I made using sugar, cinnamon sticks, pumpkin pie spice and canned pumpkins—ingredients you may already have at home.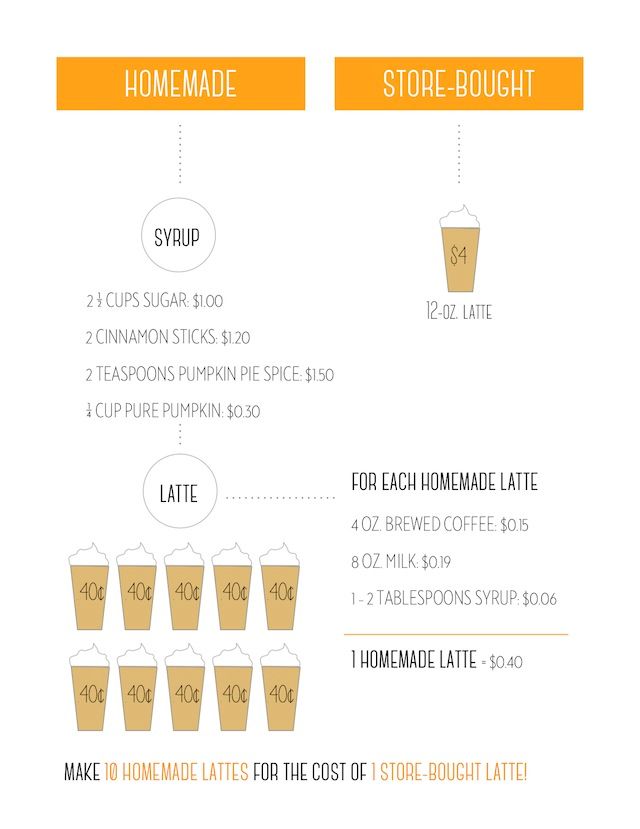 Of course making you #PSL at home requires a little more work than simply enduring the line at Starbucks, so factor in how much your time/effort is worth to you. This recipe makes enough syrup for 32 to 64 lattes, depending on how much syrup you'd like. It's a ton! If you get sick of lattes, try drizzling it over ice cream, using it as syrup on pancakes or blending it into a morning smoothie. Here's how you make it...
COPYCAT PUMPKIN SPICE LATTE
MAKES: 4 cups syrup (32 to 64 lattes)
FOR THE SYRUP
2 1/2 cups granulated sugar
2 cinnamon sticks
2 teaspoons pumpkin pie spice
1/4 cup canned pure pumpkin
FOR THE LATTE
8 ounces whole milk
4 ounces strong brewed coffee or espresso
Whipped cream and pumpkin pie spice, for garnish (optional)
1. Prepare the syrup: Bring the sugar and 2 cups water to a simmer in a medium saucepan over medium heat, whisking, until the sugar dissolves. Add the cinnamon sticks, pumpkin pie spice and pumpkin. Simmer, whisking occasionally, about 5 minutes. Remove from the heat. Set aside 5 minutes, then strain twice through a fine-mesh strainer into an airtight container. Refrigerate until cool. Store in the refrigerator for about 1 month. You'll end up with about 4 cups total.
2. For each latte: Microwave the milk on High about 1 minute or until very hot. (Transfer to a blender and blend 20 seconds for extra frothy milk, if desired.) Put 1 to 2 tablespoons pumpkin spice syrup in the bottom of a mug. Top with the coffee and warm milk. Garnish with whipped cream and pumpkin pie spice, if desired.