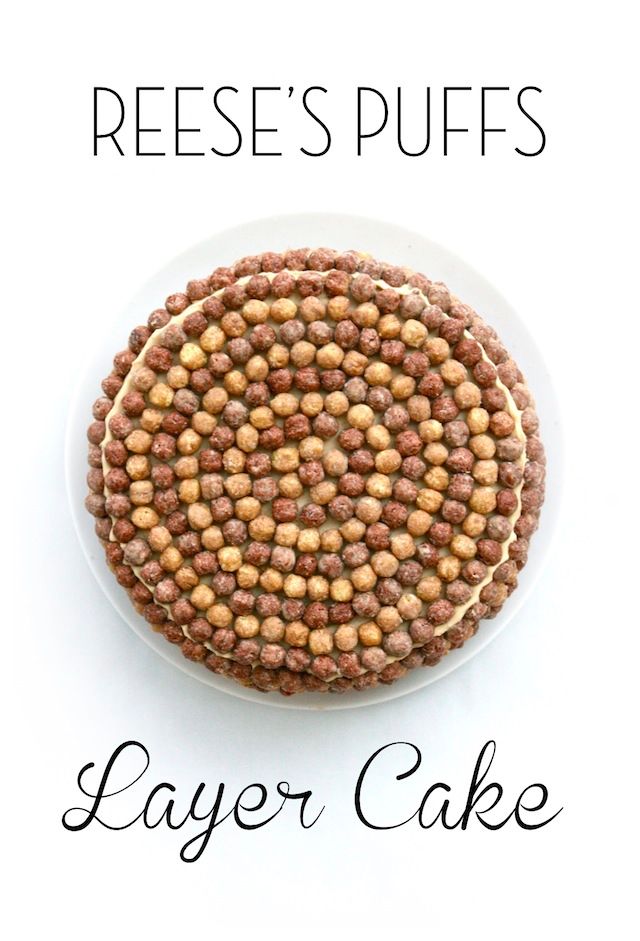 I was super excited to make this Reese's Puffs cake for my cereal-dessert post last week. Other editors and hungry humans kept stopping by my station in the test kitchen as I was building this giant treat to comment (well, and also to secure a slice once it was done). Turns out almost everyone's a sucker for Reese's.
The layer cake itself is really straight forward: I used Duncan Hines box mix and my favorite peanut butter frosting recipe, below. If you'd like to make your cake layers from scratch, I really love this recipe by My Baking Addiction. The cereal decorations take a little more doing but it's totally worth it, I promise! I thought there was something very zen about separating the chocolate and peanut butter puffs into separate piles—maybe that's just me. Anyway! Here's how you make this crunchy chocolate-peanut butter layer cake! xo
REESES PEANUT BUTTER PUFF CAKE
SERVES: 10 to 12
FOR THE FROSTING
4 sticks (1 pound) butter, at room temperature
1 cup smooth peanut butter
2 to 3 cups confectioners' sugar
2 to 3 tablespoons milk
FOR THE CAKE
3 (8- to 9-inch) round chocolate cakes, cooled and trimmed (
homemade
or from a box mix)
6 cups Reese's Peanut Butter Puff cereal
1. Make the frosting: Beat the butter and peanut butter with an electric mixer until smooth. Alternate adding the confectioners' sugar and milk until you reach your desired sweetness and consistency.
2. Assemble the cake: Put 1 cake round on a serving platter (lined with strips of parchment or wax paper for easy clean up, if desired). Top with about 3/4 cup peanut butter frosting and smooth in an even layer, leaving about a 1/2 inch border. Repeat with another cake round and 3/4 cup frosting; top with the last cake round flat-side up. Coat the whole cake with a thin layer of frosting using an offset spatula (this is called a crumb-coat) and refrigerate uncovered at least 2 hours or until hard.
3. Frost the top and sides of the cake with the remaining peanut butter frosting; refrigerate uncovered at least 30 more minutes or until frosting begins to harden. Meanwhile, separate the Reese's Peanut Butter Puffs by color. Arrange the Reese's Peanut Butter Puffs in rows around the cake, alternating colors, until completely covered.